Open Access Week 2017
Under development.
Academia.edu & Self-Branding: The Metricisation of Scholars and Scholarly Networks, May 2017
Under development.
Open Access Week 2016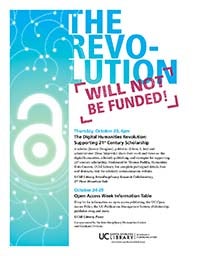 Open Access Week 2015
Innovation, Copyright, and the Academy (Kenneth D. Crews)
Open Access Week 2014
Poster
What's the Big Deal? Journal Pricing Secrets Exposed - Ted Bergstrom [View video]
Altmetrics: New Ways to Evaluate for a New Publishing Environment - Chuck Huber
Survival of the Fittest: The Brave New World of Scholarly Publishing - Panel
Raising the Impact of Research, Scholarship, and Education Through Openness, May 2014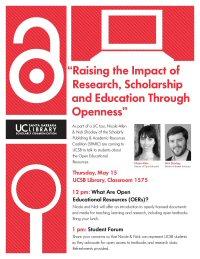 Open Access and Graduate Students, April-May 2014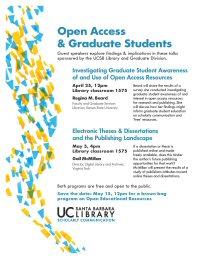 Article:  Do Open Access Electronic Theses and Dissertations Diminish Publishing Opportunities in the Sciences?
Article: Do Open Access Electronic Theses and Dissertations Diminish Publishing Opportunities in the Social Sciences and Humanities?  Findings from a 2011 Survey of Academic Publishers
Redefining Impact, Data Management Plans, Graduate Students & Creative Commons, October 2013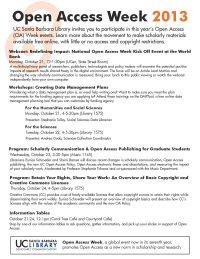 Creating Data Management Plans (PDF)
Scholarly Communication & Publishing:  The Roadmap Ahead, October 2012
Audio File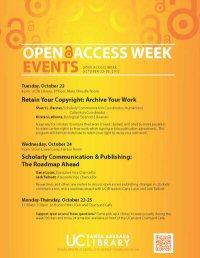 Digitize, Democratize:  Libraries and the Future of Books, May 2012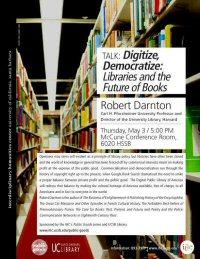 Gervitz Research Institute, Core Lunch Series, April 2012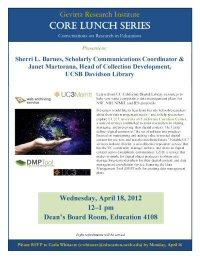 IHC "Public Goods"/UCSB Library Program, November 2011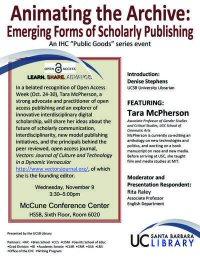 Open Access Week, October 2011
 Poster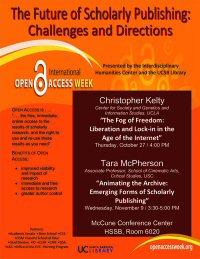 CISM/UCSB Library Program, April 2011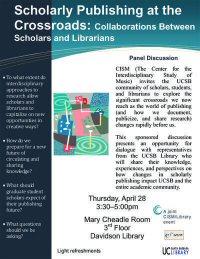 Open Access Week, October 20, 2010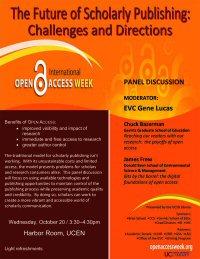 Audio File