Find the item in an Article Database. Click here for help choosing a database.

Once you have found an article, click on UC-eLinks.
For 5, from the Journal of Parisitology, note that an electronic copy is immediately available. Request is generally unnecessary.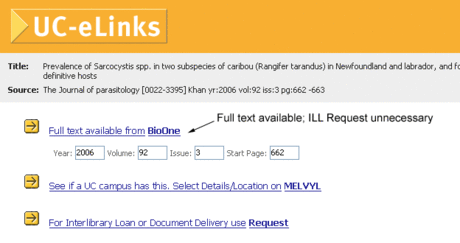 For 7, from Acta Theriologica, there is no electronic copy available. Therefore, you will click on the Check Melvyl... link. From the resulting screen, check to see whether UCSB owns a print copy of the journal you need. If not, click on the Request link.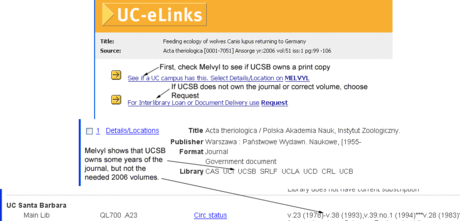 When you click on the Request link, you will get a form to fill in information about yourself.
If the form shown below does not display, you probably have popup blocking software enabled on your computer which prevents the Request window from opening. You can find more information about popup blocking software here.
Fill in your Library Card/Account Number, which is the number beginning with "21205" on your Access Card or library card. The Request system will retain your personal information if you wish to submit more requests during this session.
Click on "Next"
If you do not see this screen, you may have a pop-up blocker that is preventing it from opening.
You can change some information on the following form, such as your Email address or the Need by date (Please note: changing the "Need by date" does not affect how fast your request will arrive). You can also add a Note if necessary. If you do not want a confirmation email sent, un-check "Send confirmation email"
Click on "Next"
To complete your request, click on "Request it!"
If you wish to terminate your request, click on "Cancel". Click on "Back" if you wish to change information on the previous form.
Request Successful! Remember to Log out when you are done with your session.