Find the item in an Article Database. Click here for help choosing a database.

Once you have found an article, click on UC-eLinks.
For 5, from the Journal of Parisitology, note that an electronic copy is immediately available. Request is generally unnecessary.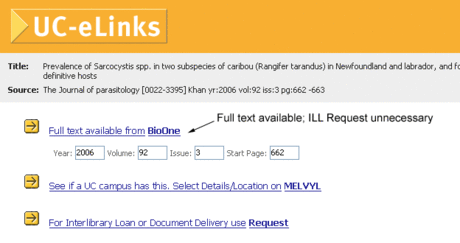 For 7, from Acta Theriologica, there is no electronic copy available. Therefore, you will click on the Check Melvyl... link. From the resulting screen, check to see whether UCSB owns a print copy of the journal you need. If not, click on the Request link.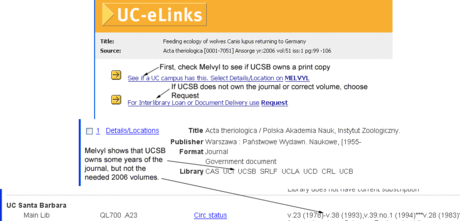 When you click on the Request link, you will get a form to fill in information about yourself.
If the form shown below does not display, you probably have popup blocking software enabled on your computer which prevents the Request window from opening. You can find more information about popup blocking software here.
Enter your library card or Access Card number and password. Your password is the same one you use for the library catalog which, unless you have changed it, is this same number. If you choose web delivery, you will receive an electronic copy if possible, which is faster than print.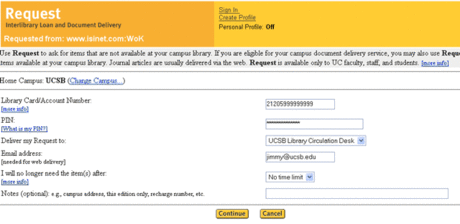 You will see a confirmation screen listing the article you requested and asking you to awknowledge copyright restrictions, which you must do for your request to proceed.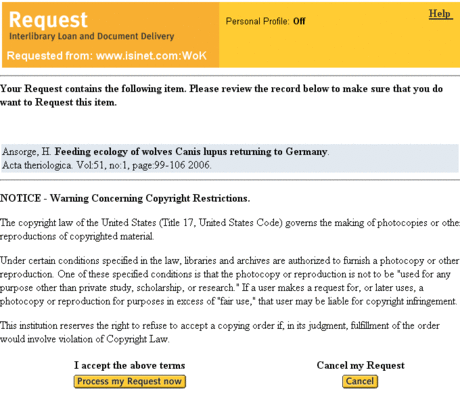 If you receive an error message saying "You have entered an account number that is not recognized. Please be sure you are using the correct library card/account number for your campus," verify your library card number and password. This is the same information you use for "My Library Account" in the library catalog. For questions about your library card number or password, contact Circulation Services.
If you have any questions about Article Databases request, contact the Interlibrary Loan office, located in room 1510 on the 1st floor opposite the east entrance, or call (805) 893-3436.
Do not forget to click on the Sign out link.