You can do a title search with the exact beginning of a serial title. Do not type initial articles (a, an, the, etc.).
Select the "Basic Search" from the Library Home page.


In the Basic Search screen select the "Journal Title begins with" option in the drop down menu. In the next box, enter the title you wish to search. Click on the Search button.

Choose your title from the list.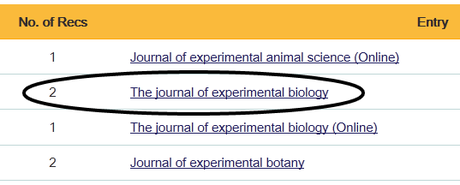 Choose your desired title from the following list. You can click on the number next to that title to see its full record. Select the call number to check for circulation status. You can also see whether or not the library's copy has been checked out by looking at the numbers on the right. "258/0" means the library owns 258 volumes and none currently checked out. The first record below is the print journal, and the second is the online journal.


Click on the call number to find specific information on the volumes in the library. Summary information is at the top of the page and information regarding specific volumes are found further down the page.


For online access, click on the link for "Internet Resource [Online]".  On the next page, select the link next to "Online" to gain access.  If you are off-campus you will need to login first.



Click here for information regarding call numbers and their locations.
Search the library catalog now.