Sign in to "My Library Account"
My Library Account lets you update your current mailing address, see what you have checked out, check due dates, renew eligible materials, or customize the catalog's display settings.  
From any page on the library website, click on "Login" in the upper right-hand corner.
Click on the "My Library Account" option.
Now enter your library card number. This is the 14-digit number on your library card or Access Card. Your password is this same number until you choose to change it. Then, click on the Login link.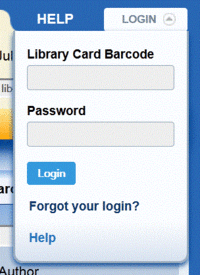 When successful, the Login field at the top of the screen will turn red and read Logout. When you are finished with your session, do not forget to click on the Logout link.