Guide to the Dr. Pauline E. Brooks and Abye Family Papers collection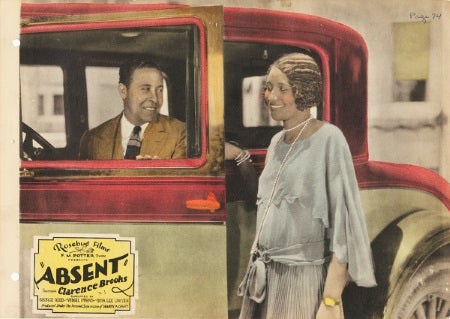 The Dr. Pauline E. Brooks and Abye Family collection consists of early Black film actor Clarence Ahart Brooks' personal collection of films, early Black scripts and plays, documents, photographs, newspaper clippings, correspondence, lobby cards and advertisements pertaining to the Lincoln Motion Picture Company (1916-c.1923) and other early Black filmmaking companies. The collection contains materials related to his acting (stage and screen), filmmaking and presentations, business actions and the general economic and racial contexts of the era. Included, too, are press releases, publicity plans, press reviews, and other ephemera concerning the broader context of early Black filmmaking of the time period, 1916-1939.
Clarence Ahart Brooks was co-founder and Executive Secretary of the Lincoln Motion Picture Company, and its leading male actor in its five films, and an important force in emergence and development of the race film industry in the United States. The Lincoln company was headquartered in Los Angeles, California, and is widely considered the first Black-founded film production company with a national system of distribution. Created with the mission to realistically portray the lives and experiences of African Americans, the Lincoln's Black-cast films starkly contrasted with Hollywood's limited and stereotypical Black images. The period of this collection overlaps with the height of Jim Crow segregation in the United States, when cultural and legalized racial segregation and white racism were prominent characteristics of U.S. society.