You can renew your library materials online from the library catalog.
Log in to "My Library Account."
Click on Loans under the heading Activities. Library materials checked out on your account will display.

If you want to renew everything you have, click on the Renew All button. This process will automatically renew all eligible items. 
To renew an individual item, simply click on the box next to the item's number, then click the Renew Selected button.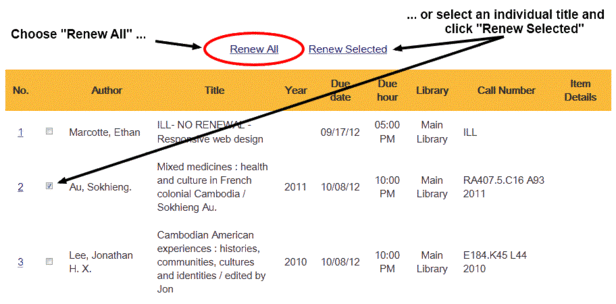 If you choose Renew All, you will see a "Renewal Request Results" window which will display a list of any non-renewed items and an explanation of why the items could not be renewed.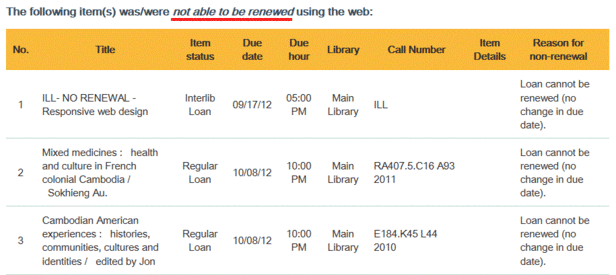 To view new due dates, go back and click on Loans again (see step 2 above). If you receive any notice that any items were not renewed, contact Circulation Services.
You can renew your materials up to 5 times beyond their original due date. The system will not allow you to renew past this limit. The renewals submitted via "My Library Account" are instantaneous and done directly on the computer. All revised due dates will show immediately. You will not receive additional confirmation of the activity.
When you are finished with your session, do not forget to click on the Log out link. 
Interlibrary Loan (ILL) and Course Reserves materials are not eligible for renewal through "My Library Account."
To renew ILL materials, you can either:
To renew Reserves materials:
Please ask at the Services desk.
Comments: Circulation Services.