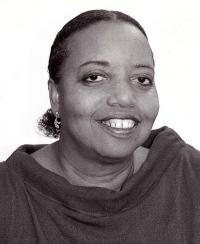 The papers of African-American poet and playwright, peacemaker, community activist, and television producer Sojourner Kincaid Rolle, have been established in CEMA. Her poetry includes six chapbooks, inclusion in various anthologies and literary journals and a body of uncollected work, some of which has been choreographed for dance presentation and performed as theater. In 2002, she co-wrote with Robert A. Potter "Ayo's Journey", a multidimensional theater performance about the transatlantic slave trade, based on a 12-poem cycle. This production was directed by Val Limar. Four of her poems were produced as short plays by the group "Dramatic Women."
She describes her play "Omega Night", directed by UCSB theater graduate Joshua Kashinsky, as "a thrift shop of old memories and fresh possibilities." Kincaid Rolle produced a well-received television show, "Outrageous Women", from 1988-1995, featuring interviews with local notables from the African American community such as Dr. Shirley Kennedy and Mrs. Anita Mackey. Among the many shows she produced included "A Tribute to Chumash Elders" and segments on journalist Charlayne Hunter-Gault, on the Reverend Leander Wilkes, and on muralist Manuel Unzueta. In the area of radio and print journalism, she has interviewed countless visitors to the UCSB campus including authors James Baldwin and Margaret Walker, and civil rights activist Julian Bond.
Kincaid Rolle has been a California Arts Council Artist-in- Residence, and a California Arts in Corrections teacher. She has served as the Community Outreach Coordinator for the UCSB Center for Black Studies, and has served on the Santa Barbara County Arts Commission, as well as on the boards of several organizations including the Contemporary Arts Forum and the Cultural Development Foundation and was appointed Poet Laureate for AfriGeneas. She has inspired young poets in Santa Barbara and throughout the country as a speaker and writing workshop leader. Her poetry has been included in anthologies such as The Geography of Home (Heydey Books, 1999) and Poetry of Peace (Capra Press, 2002). Her published writings include her poetry as well as commentaries on feminism,peace,and social justice. Currently she is writing a memoir, The Promise: Inspired by William Stafford.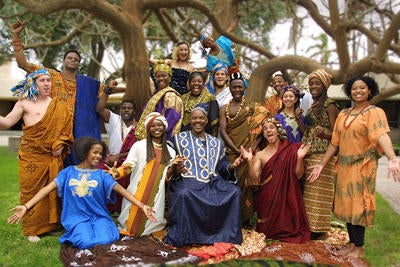 The Sojourner Kincaid Rolle Papers will grow in stages and will eventually consist of literary manuscripts, correspondence, photographs, broadsides, ephemera, audio and video recordings.