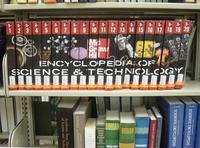 The science and engineering collections are located in the Sciences-Engineering Library (SEL) on the 2nd floor of Davidson Library. Use the Library Catalog to find locations and call numbers.
Library Renovation Update: During library construction the Sciences-Engineering collection is limited in size. We have attempted to keep the most heavily used materials available in the library including the science reference collection, books on topics of local interest, and all books and journals published after 2004. These materials are located on the second floor across from the main elevators. For the duration of the project, all other SEL materials may be requested through Interlibrary Loan.
Future Plans: After construction is finished, the Sciences-Engineering collection, including materials currently in storage, will return to the second floor in the renovated building.
Both now and into the future the Sciences-Engineering collection will include both print and electronic formats that best meet the needs of library users. The library catalog shows all available formats and provides links to electronic sources.
See the following pages to get started on your research: