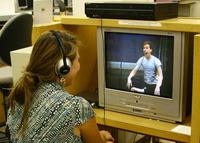 There is equipment available in the library for viewing VHS or DVD videos.
Davidson Library Reference Area
2 DVD/VHS machines for individual viewers
Headphones are available for checkout at the Reference/Information Desk.
Media Viewing Room (Curriculum Lab)
There is a small room for group viewing of DVD/VHS videos (up to 6 people).
The machine in this room is an all-regional player (NTSC, PAL, SECAM formats).
Room is available on a first-come, first-served basis. Ask at the Curriculum Lab desk for assistance.
Seminar rooms fully-equipped for using LPs, CDs, VHS tapes, and DVDs
Listening and viewing facilities for UCSB students, faculty, and community users