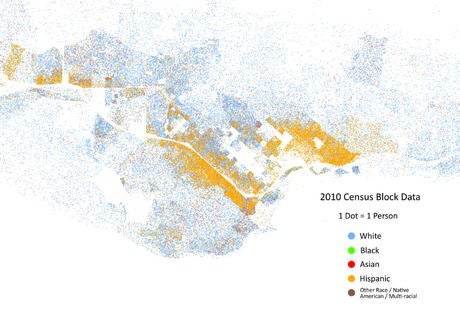 University of Virginia's Weldon Cooper Center for Public Service has produced a new map showing population density and racial distribution in the U.S.
Cartographer Dustin Cable represents data gathered in the 2010 Census with 308,745,538 dots, each representing one person and their racial or ethnic background.
While at first glance the color coding may give the impression of diversity, something different is revealed when you zoom in .
Our zoomed-in snap of Santa Barbara clearly shows the concentration of Hispanics in the more densely populated areas closest to the main centers of commerce that provide employment, and near transportation corridors and bus stops . An income distribution map would show the same pattern--a Santa Barbara divided into wealthy and white living in the less densely populated areas in the hills and near the water, while the lower income Hispanics live closer to their neighbors and to the urban core of the city.