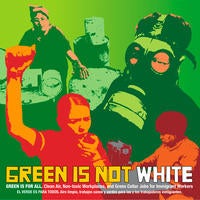 This Wednesday, January 30 at 3:30pm, the UCSB Library and Chicano Studies Institute are co-sponsoring an artist talk by Favianna Rodriguez, in conjunction with the exhibit, "Favianna Rodriguez: Art of the Activist Imagination," currently on view in the first floor gallery of Davidson Library. The talk and subsequent reception will be held on the eighth floor of Davidson Library, in the Pacific View Room.
Rodriguez is an artist, activist, and teacher based in Oakland, California. Her bold posters and digital art deal with social issues, such as immigration, globalization, economic injustice, patriarchy, racism, and war. Whether handmade or printed en masse, her prints reflect the impact people can have on their conditions.
Rodriguez has founded several organizations dedicated to training communities and artists in the use of political graphics, murals, and the Internet for social change. She lectures widely on the use of art in civic engagement and the work of artists who, like herself, are bridging the community and museum, the local and international. Her works appear in collections all over the world, from Mexico to Scotland.
In 2008, Rodriguez was named one of Utne Reader magazine's "50 Visionaries Who Are Changing the World."
Learn more about Favianna Rodriguez and her political art at http://favianna.com.