---
Teaching Exhibition: Late Medieval & Early Modern Era
UCSB Library (Art & Architecture, Mountain Side, 1st Floor)
February 26 thru March 8, 2016
This exhibition has been planned in conjunction with ARTHI 6B: Art Survey II, which focuses on the visual culture of the late medieval and early modern era. These objects have been selected from the collections of the AD&A Museum to provide students with a glimpse of artistic production outside the canon.
---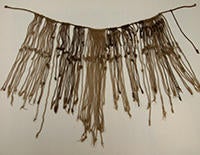 Teaching Exhibition: Pre-Columbian
UCSB Library (Art & Architecture, Mountain Side, 1st Floor)
Spring quarter, 2016
From an Inca stringed accounting device (quipu) to a Teotihuacan anthropomorphic incense burner, to several Nasca polychrome vessels, this exhibition brings together some of the highlights of Pre-Columbian objects owned by UCSB's Art, Design, & Architecture Museum. These objects will serve as the basis for research papers written by students of the Art History lower division class, The Arts of Pre-Columbian America.
---
Pulse of a City
UCSB Library
Spring 2016
This interactive exhibition created by Assistant Professor Krzysztof Janowicz (Geography) visualizes urban patterns using geo social media.
---
Art of Science, 2016
UCSB Library
Spring 2016
The Library will again exhibit the winners of the annual Art of Science Competition. Organized by the Schuller Lab and the Center for Science and Engineering Partnerships at the California Nanosystems, this exhibition allows UCSB researchers to share the beauty of discovery and the story of their science with the campus community.
---
Symmetry and Aesthetics in Contemporary Physics, 2016
UCSB Library
Summer 2016
For the second year in a row, the Library will showcase the final projects from an experimental seminar that explores the connections between contemporary physics, math, and the arts. This course, Symmetry and Aesthetics in Contemporary Physics, is taught by Dr. Jatila van der Veen.
---
Click here to subscribe to our e-newsletter and have information about events & exhibitions delivered directly to your inbox.