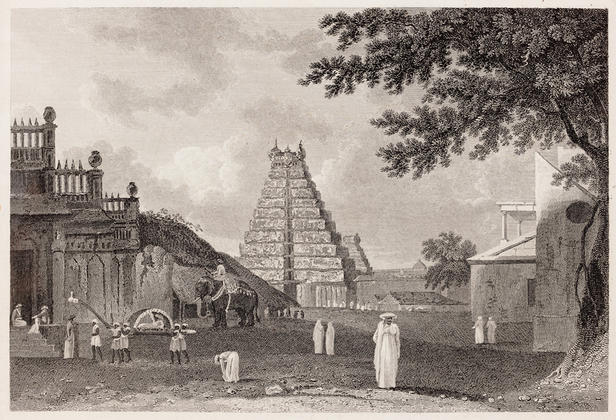 ---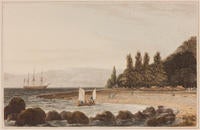 Thomas and William Daniell, A Picturesque Voyage to India; by the Way of China. London: Longman, Hurst, Rees, and Orme, etc., 1810.
Thomas Daniell (1749–1840) and his nephew William Daniell (1769–1837) were artists who traveled to India in search of opportunity. They arrived in Calcutta in 1786 by way of China and spent seven years in India, traveling and representing the landscape. A Picturesque Voyage to India captures their initial reactions of India. Wishing to outdo their predecessor William Hodges, the Daniells made sketches of the landscape using a camera obscura to increase the supposed accuracy of their imagery. The Daniells also traveled further than Hodges and were the first Europeans to enter the city of Srinagar after reaching the Himalayas. Their images adhered to the picturesque, an aesthetic category introduced by William Gilpin in 1782, and were immensely popular among British audiences. Their popularity was partially due to the fact that even though they depicted exciting and unfamiliar places, the mode of representation was consistent with landscape imagery from Britain. The Daniells' landscapes were precise and composed visions of a foreign colony. Their oeuvre helped to establish the Indian picturesque and generate interest in India back in England.
Sara Miller McCune Collection
---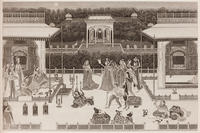 William Hodges, Travels in India, During the Years 1780, 1781, 1782 & 1783. London: Printed for the author and sold by J. Edwards, Pall-Mall, 1793.
British artist William Hodges (1744-1797) contributed significantly to the production of the Indian picturesque. Hodges, who trained under the landscape painter Richard Wilson, came to India in 1788 after traveling around the South Seas with famed navigator Captain James Cook as the official artist of Cook's Second Voyage. Having successfully demonstrated his finesse at documenting exotic non-European territories, he was commissioned by Warren Hastings the Governor-General of Bengal in the early 1780s to travel around India and produce a visual survey of the varied landscape of the subcontinent.
The collection of images Hodges produced reveals an interest in the atmospheric conditions of environment, light and shadow, and a fascination with the seemingly exotic elements of the landscape. He attempted to present a scientific documentation of India, while at the same time demonstrate his skill as an artist. However the landscapes he produced were ultimately part of an already established tradition of image making that involved piecing together different observable components to create an ideal representation. The India Hodges represented was an India that was made to appear simultaneously exotic and yet palatable to a Western audience because it adhered to a conventional model.
Sara Miller McCune Collection
---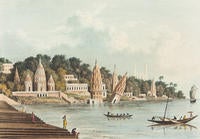 Lieutenant-Colonel Charles Ramus Forrest, A Picturesque Tour Along the Rivers Ganges and Jumna in India: Consisting of Twenty-four Highly Finished and Colored Views…From Original Drawings Made on the Spot. London: R. Ackermann, 1824.
Lieutenant-Colonel Charles Ramus Forrest (1750-1827) was an amateur artist who also served in the army from 1802-1827. While in India he served with the 3rd East Kent Regiment from 1802-14. By the time he produced his collection of images the conventions of the Indian picturesque had been codified. Forrest was enamored of India and its romantic landscapes and hoped that his work would convey a sense of his excitement and enthusiasm to other Britishers. He modeled his landscapes on the visual program of the Indian picturesque that was established by Hodges and the Daniells. Picturesque artists were required to travel and make sketches of sites of interest and then organize the painting later. Indeed Forrest emphasizes how he always drew on the spot when traveling around India in his work. These artists were also supposed to present an accurate representation of place; however, the images were ultimately aesthetic constructions designed with a specific audience in mind. Typical images of the Indian picturesque represent palaces, forts, temples, and village scenes in various stages of ruin with human figures appearing only incidentally. These ruins were valuable and beautiful in a Romantic context, but gradually evolved into visual metaphors for the country itself so that India, while picturesque, was also seen as a land in decline.
Sara Miller McCune Collection
---
Henry Salt, Twenty Four Views Taken in St. Helena, The Cape, India, Ceylon, Abyssinia & Egypt, 1809
Henry Salt (1780-1827) was an English artist, traveler, antiquarian, diplomat, and Egyptologist. His 1809 work Twenty Four Views is modeled on the picturesque work of the Daniells' Oriental Scenery (1795-1808). In order to acquire the necessary skills for illustration, Salt trained with topographical draughtsman Joseph Farington, and in 1802 George Annesley, Viscount Valentia, offered him a commission as the official artist and secretary of Annesley's Grand Tour of the East, which included an extensive number of sites in India.
Salt's work is notable not only because it continues the picturesque tradition, but also because by collecting views from different areas of the East he helped to visually reinforce the distinction between East and West. This polarization reflects the Orientalist-thinking of the time. Salt used the picturesque to conjure a vision of the East. He included elements of "exoticness" such elephants and camels and unfamiliar foliage and vegetation. He also focused on the representation of numerous architectural ruins and religious buildings that seemed so foreign to a Western audience. While the construction of the landscape adhered to a Western tradition of painting, the content of his images was meant to showcase the diversity of the East for the purposes of Annesley's displays back home.
Sara Miller McCune Collection
---
< Previous | Online Exhibition Home | Next >