With the start of the Library Addition and Renovation project in 2013, the library faces significant challenges in housing its physical collections, both during the immediate construction period and in the years ahead. Seismic retrofitting of the 8 story tower along with the installation of a fire suppression system requires that the tower collection of nearly 900,000 volumes be permanently reduced by 15 percent, or about 140,000 volumes. Although the building project will result in the addition of a new three-story wing, net onsite collection space will remain fixed into the future, and offsite space will be limited. Yet even with increasing acquisition of ebooks, the physical collection will continue to grow, though more slowly.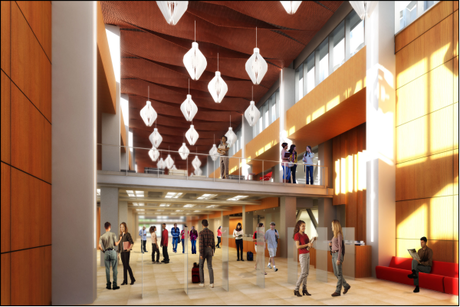 In early 2012 the library launched the Collection Space Planning Initiative, whose purpose was to develop a shared understanding between the library and the faculty for how best to manage the immediate space challenges presented by the building project, and to shape a longer term space management strategy. These goals were accomplished by the end of 2012, through a survey of faculty and graduate students that provided reliable data about behaviors and preferences in accessing the collection. From this survey, a faculty committee, working with a library team, developed a set of space planning strategies for accessing all of the materials in the library's collections, in the manner they are used and with the least impact to research and teaching. Although there are no perfect solutions to the library's space challenges, these strategies for achieving the needed onsite reductions are consistent with the data from the survey and were approved by the faculty committee:
Relocate to offsite storage print volumes of journals that the library has cancelled in print but provides access to online.
Relocate or withdraw selected print journals for which access and preservation are secure in a permanent and persistent archive such as JSTOR.
Relocate to local offsite storage selected, previously cancelled journals.
Relocate to local offsite storage selected older editions of books for which the library holds more recent editions, in disciplines where fewer than 20 percent of survey respondents said that these are important for their research and teaching.
Relocate to local offsite storage selected non-English books in disciplines where fewer than 20 percent of respondents said that these are important for their research and teaching.
Relocate to offsite storage selected older books; for example, selected titles published more than twenty years ago that have not circulated in over ten years.
To address the longer term space challenges of managing the physical collections, the library also adheres to the following principles:
Print content that is newly added to the collections is a priority for onsite location.
Virtual browsability of the shelves is a critical tool for uncovering all of the library's cataloged collection content. Using the online catalog, the collections can be browsed virtually by LC class number: from Basic Search, select "Call number begins with" and view records in shelf number order.
Subject librarians will conduct ongoing review of collections to select volumes for storage in the Southern Regional Library Facility (SRLF) based on the strategies developed through the Space Planning Initiative. Materials housed in SRLF constitute a permanent and persistent collection that is shared by the UC libraries regardless of the original UC location of individual volumes.
Service enhancements can effectively mitigate the necessary increased reliance on offsite storage. The library has developed or is investigating:


Daily retrievals from offsite local storage.
Enhance catalog records, including features to help identify needed materials: online tables of contents, summaries, Choice and New York Times review
Office delivery of materials from storage and development of desktop delivery of articles and book features, e.g. index, tables of contents (investigating)
Enhanced virtual browsing (investigating)

Redundancy between print and electronic collections will be eliminated in order to maximize effective use of space; in particular, target print journals for which there is reliable online access.