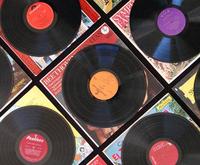 The music collection is located on the 2nd floor of the Arts Library. The collection emphasizes music of the Western art traditions and diverse world cultures, particularly the vernacular and traditional music of Eastern Europe, India, the Middle East, and the United States. Collections include books, scores, sound recordings, journals, videos, and microforms.
Special Music Collections
Special collections in the Arts Library do not circulate unless otherwise noted.
The Goethe Collection
This collection houses nearly 200 items of historical and critical materials relating to Johann Wolfgang von Goethe, including first and early editions of his writings and musical settings of his poetry.
Music Department Performances
Archived recordings of faculty and student recitals are available for listening in the Arts Library.
Performing Arts Collection (Department of Special Collections)
Significant collections of primary source music research materials are held in the Performing Arts Collection in Davidson Library in the Department of Special Collections.
More Information